A UK government source has confirmed that talks are under way with Spain about introducing air bridges with the Balearic and Canary Islands.
This would mean people arriving from the islands would not have to observe a 14-day quarantine on arrival.
The travel industry is lobbying the government and is hoping a decision is made by Friday.
A government source indicated to the BBC that a decision on the matter would not be made in the immediate future.
One travel industry source said the government had told them it wanted to study more data from Spain's Islands before making a decision.
The development comes as holiday companies continue to react to the imposition of the quarantine on all people arriving in the UK from Spain, which was announced at the weekend.
EasyJet has said it is cancelling holidays to all Spanish destinations for the next few weeks, but flights will still go ahead.
It said it would operate its full schedule of flights to Spain, despite the UK's decision to impose a 14-day quarantine on returning holidaymakers.
But it said it only offered holidays where there was no known requirement to self-isolate on arrival or return.
"We're really sorry for any disappointment," the firm added.
EasyJet said it had already contacted customers who had been due to have holidays in mainland Spain, the Canary Islands and the Balearic Islands.
It said they would shortly be able to get a refund.
EasyJet added that it had "a very flexible approach" for customers with existing bookings who were feeling unsure about travelling. They could change their bookings free of charge up to 28 days before departure, it said.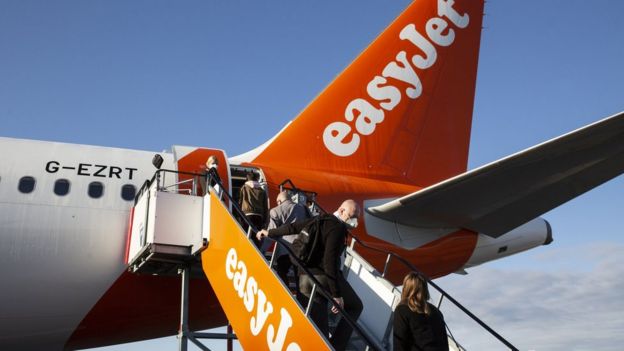 While flights are not being cancelled, customers who no longer wish to travel can transfer their flights without a change fee or receive a voucher for the value of the booking, EasyJet said.
It added that it was "disappointed" that the government had decided to impose a quarantine for those travelling from the whole of Spain, "since the increased occurrence of coronavirus is regional rather than nationwide".
EasyJet was among a number of travel companies who saw their share prices drop on Monday following the government's surprise decision to introduce a 14-day quarantine for travellers returning from Spain.
Its share price dropped by 11.2% to 522.6p each.
The UK's biggest tour operator, Tui, recorded a 12% fall in its share price to 298.6p while British Airway-owner IAG saw its share price slide by 7.28% to 184.25p.
Blanket measures
Tui has urged the UK government not to slap blanket quarantines on whole countries.
Andrew Flintham, managing director of TUI UK and Ireland, said the government should have a "regionalised" policy.
That would mean only travellers returning from coronavirus hotspots should be forced to quarantine.
The UK imposed the restriction over the weekend after a spike in infections in some Spanish regions, including Catalonia, where Barcelona is located, and Aragon.
The French government has been telling its nationals to stay away from Catalonia, while Norway has imposed a new 10-day quarantine on all travellers arriving from Spain.
Tui has cancelled all mainland Spanish holidays until 9 August.
It has said that customers due to travel to all areas of Spain between 27 July and 9 August will be able to cancel or amend holidays and will be able to receive a full refund or the option to rebook their holiday with a booking incentive.
However, it adds that people with holidays from 10 August will be updated on 31 July.
'Unchecked' movement
Mr Flintham told the BBC that the government was "rightly nervous" about people's ability to move "relatively unchecked" around countries which had a spike of cases in certain areas.
However, he said most holidaymakers stayed in one place when they got there and should be safe if they were not in high-risk areas.
"They do not go travelling around wider Spain and then they come home again,," he said.
"Everything in life has risks, but it's about taking a proportionate risk-based approach."
Mr Flintham said that despite the option of seeking a refund, people were determined to go on holiday somewhere.
He added: "Most of our customers that we've spoken to so far, they really want to get away, so they're rebooking something else."
Waning demand
Paul Charles, spokesman for the Quash Quarantine group, told the BBC that the new rules on Spain had created "a renewed crisis of confidence" among consumers, who were now unsure whether to go anywhere on holiday for fear that the rules might change again.
He said travel firms were already seeing signs of a fall-off in demand among would-be holidaymakers.
The government's "old-fashioned" policy of blanket quarantines was "a very blunt tool" and a "national embarrassment", Mr Charles added, and should be replaced by swab tests at airports and an effective track-and-trace system for virus cases.
"Blanket quarantine kills travel," he said, adding that the policy had dashed the travel industry's hopes of a successful end to the summer season.
"It's about survival, it's not about profit," he said.
Source: bbc
Extranewsgh.com is not responsible for the reportage or opinions of contributors published on the website. Read our disclaimer.
Send Your News Stories and General Inquiries to extranewsgh@gmail.com or Whatsapp: 0206386139