The Minister for Youth and Sports, Mustapha Ussif, has held bilateral discussions with his counterpart from Qatar H.E. Salah bin Ghanim Al-Ali.
During a three-day working visit to the 2022 FIFA World Cup hosts, Ussif held discussions with other Qatari sports officials, including officials of the football club side, Al Saad to establish mutually beneficial cooperation between the two friendly nations.
At the meeting with the Qatari Sports Minister, Ussif tabled several development proposals, including cooperation in technical and administration in sports between the two countries.
On this, discussions centred on exchange programmes in various sports disciplines.
With Qatar preparing to host the FIFA World Cup this year, the Minister expressed a desire in Ghana to draw lessons from Qatar's World Cup organisation experience, to aid Ghana's preparations for hosting the Africa Games next year.
Qatar has also decided to dismantle some of its 2022 FIFA World Cup Stadia and donate them to partner countries after the World Cup.
Ussif used his visit lobby for Ghana to benefit from this stadium gesture by Qatar.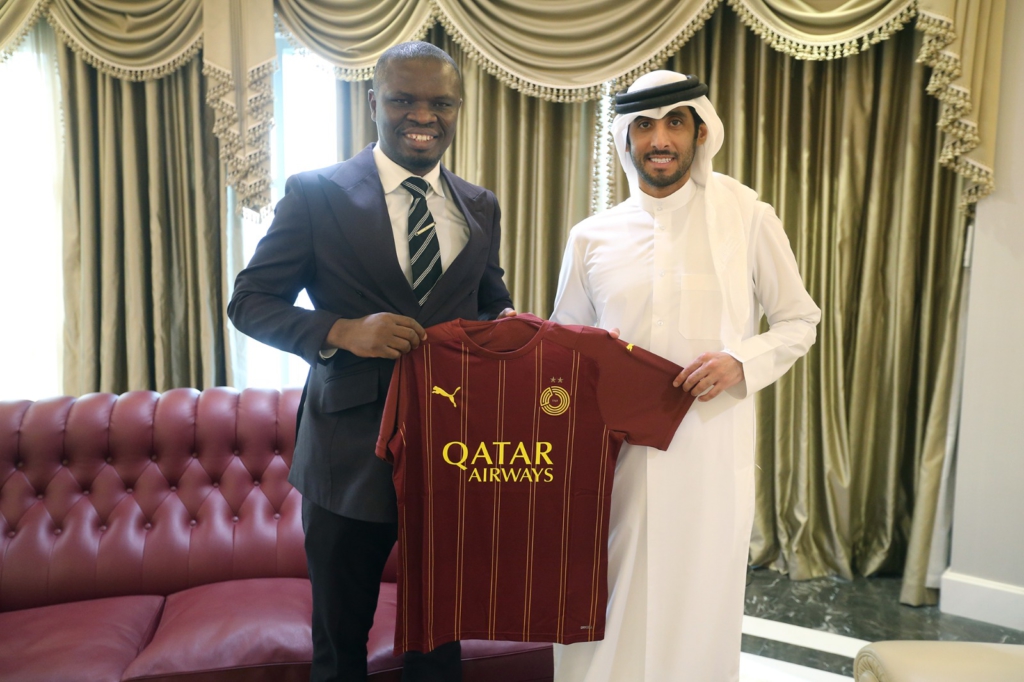 The Sports Minister's working tour also took him to some of Qatar's World class sports facilities, including the famous Aspire Sports Academy and the 3-2-1 Sports Museum.
At the Aspire Academy, Ussif praised the impact the academy has made on Qatari and global sports development and said Ghana is planning to institute its own national football/sports academy model to aid the Ministry's renewed focus on sports growth.
He visited the 3-2-1 Olympic and Sports Museum, where he was welcomed by the President of the Museum, Sheikh Mohammed bin Abdullah Al Thani, Mustapha was taken on a tour of the facility and he also spent some time studying the maintenance manual and revenue generation policy of the facility.
He indicated his readiness to institute the best management practice, through the National Sports Authority, to ensure that all Ghanaian sports facilities being built and renovated will be maintained well after completion.
During a visit to Qatar's biggest football club, the Sports Minister made a strong case for cooperation between Qatari football clubs and local Ghanaian clubs in many areas of football.
In this regard, Mustapha suggested that this should start with Al Saad – the current club of Black Stars captain, Andre Ayew – cooperating with a local Ghanaian football club.
Responding in the affirmative, the CEO of Al Saad Turki Al-Ali, also proposed that the discussion on club partnership should continue at the governmental level, and after advance talks at that level, clubs from the two countries can join the discussion for a possible agreement.
The visit to Qatar is the latest in Mustapha Ussif's sustained pursuit of improved bilateral relations with other countries.
Since his assumption of office over a year ago, Ussif has held series of bilateral discussions, both home and abroad, with colleague sports ministers and other international sports authorities for cooperation agreements with Ghana.
A number of agreements have been signed, and some have already taken off.
Source: JoySports