Two of Ghana's biggest rap stars, Sarkodie and M.anifest, have teamed up to release a new track Brown Paper Bag which addresses the ongoing Black Lives Matter protests across the world.
The song released on Thursday explores acts of omission and commission of Africans, African Americans and their leaderships which has contributed to the systematic racism black people face today.
"We are free…but we are not free totally, we are still in the matrix, slavery is in stages, we are currently in stage six," Sarkodie said in his opening lines.
The rapper was passionate about the fact that although slavery ended and the black man was believed to be free, they are still suffering from the remnants of slavery.
For Sarkodie, Freedom really means being able to control all aspects of your life including finances, making your own decision and many others adding that "we gotta push to be free before is too late."
"We have a choice but we can't breathe" he said using the famous words uttered by of Eric Garner, George Floyd, Anton Black, Javier Ambler and Derrick Scottand who died at the hands of the police in the US.
Talking about racism seems to have been a job for two at least in this song. While Sarkodie hit on racism in general, M.anifest takes on Africans and African leaders and their need to depend on foreign aid for survival.
"Oil, gold, cocoa, minerals proper in the land of so much how is there hunger?" The rapper asks.
M.anifest wishes the likes of the New Patriotic Party which has been preaching Africa or at least Ghana would move beyond aid and stop seeking cheap handouts in the name of foreign aids.
He stated that as much as people like beefs the real beef is with "Trumps and his likes", vanity, indispline, leaders with no integrity adding that there is a need for people to self-actualise.
In the journey of self-actualisation it is important for people and leaders especially to ignore what the West thinks, "focus and fix us," M.anifest said.
To fix the mess, there is a need for unity among black people, they had said.
The powerful message it topped off with a thought-provoking flyer. The artwork had numerous brown paper bags placed in front of President Akufo-Addo, who is signing a paper and former president Mahama who like Akufo-Addo is wearing a smile.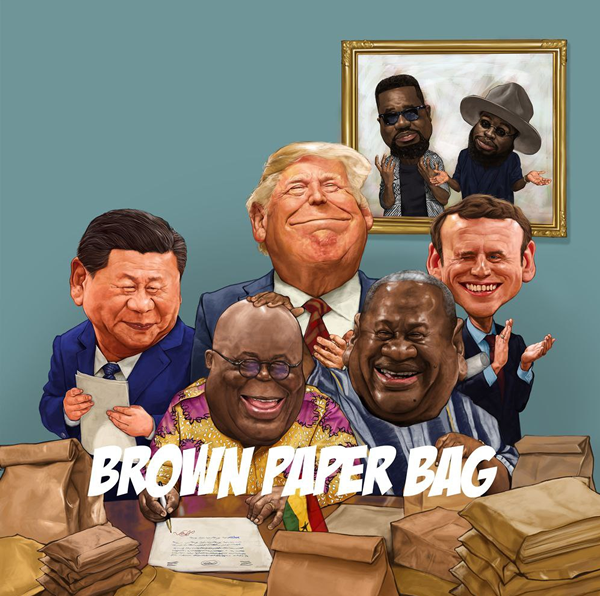 Behind them supervising the signing is the US President Donald Trump, China's President Xi Jinping and the President of France Emmanuel Macron all of them wearing a smile.
A portrait of M.anifest and Sarkodie is hanging on the wall.
Source: MyJoyOnline