Norfund has made an equity investment of $7.5 million in Continental Blue Investments Ghana Limited (CBI), an investment that will contribute to creating jobs while reducing emissions.
CBI Ghana operates a facility in Tema in Ghana that produces 550,000 tons of cement per year for industrial and residential construction and infrastructure.
"Cement is an essential input for a growing economy, but the production is also a major source of climate gas emissions. By investing in state-of-the-art technology that cuts emissions, while increasing local sourcing and production, we aim to contribute to development, the company's growth and to climate mitigation", says Naana Winful Fynn, Regional Director for West Africa for Norfund.
Cement accounts for about 7% of the world's CO2 emissions. Most of the emissions come from the production of clinker, the most important input factor in cement. Through new technology, however, a significant part of the clinker can be replaced with calcined clay.
By building a 405,000 tons per annum clay calcination unit, CBI will significantly reduce CO2 emissions from the production and increase local sourcing. The project will be the world's largest clay calcination production unit. By replacing 30-40% of the clinker in the final product, it is expected to cut up to 20% of the overall CO2 emissions from the production of the cement compared to current practices, and 30-40% compared to standard production of Ordinary Portland Cement (including the production of imported clinker), which will mean estimated avoided emissions of 300 000 tCO2e/year.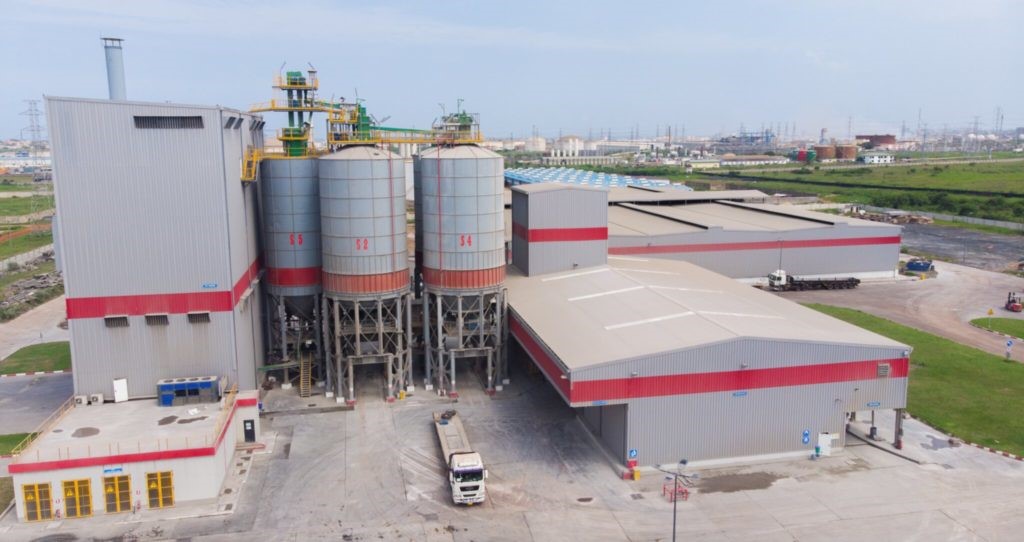 "Ghana is the perfect location for using clay as an environmentally friendly alternative to clinker, as West Africa is traditionally a clinker- and cement importing region due to the lack of suitable limestone reserves. Calcined clay cement is one of the most sustainable alternatives to traditional clinker-based cement," says Frédéric Albrecht, CEO at CBI Ghana Ltd.
CBI will be the first company in Ghana to introduce this technology, and the company plans to increase its footprint in underserved markets in Ghana by more than doubling its total cement production capacity from 555,000 tons to 1.4 metric tons per year.
CBI is already one of Ghana's top five producers of cement and directly employs over 120 people. The company has demonstrated strong growth since inception in 2018 and notable resilience during the Covid-19 crisis.
Norfund is investing alongside the Danish Investment Fund for Developing Countries (IFU) and the engineering firm FLSmidth as equity investors, with Société-Générale Group providing senior debt that is guaranteed by the Danish Export Agency. FLSmidth will also serve as the EPC provider of the calcined clay plant.
"We are excited to partner with and support CBI's leadership team, its Board and existing investors, and look forward to actively working with these stakeholders and our co-investor partners IFU and FLSmidth to support this proactive company in their market-leading effort to reduce carbon emissions in an essential sector for development. The added benefits of local value addition, job creation and import substitution for Ghana are of utmost importance to us as well," says Naana Winful Fynn, Regional Director for West Africa for Norfund.
Norfund is the Norwegian Investment Fund for developing countries. Its mission is to create jobs and to improve lives by investing in businesses that drive sustainable development. Norfund is owned and funded by the Norwegian Government and is the Norwegian Government's most important tool for strengthening the private sector in developing countries and for reducing poverty.  Norfund's committed portfolio totals 3.3 billion USD in Sub-Saharan Africa, South-East Asia, and Central America. Norfund has four investment areas: Renewable/ Clean Energy, Financial Institutions, Scalable Enterprises in Food, Agribusiness and Manufacturing and Green Infrastructure (waste management, water, sanitation). 50% of its portfolio is in Sub-Saharan Africa.
In addition to its investment in CBI, Norfund's portfolio in West Africa includes direct investments in, in Ghana: First National Bank Ghana (loan), CAL Bank (loan), Starsight Energy (loan), Oasis Africa Fund (fund investment);  in Nigeria: Sundry Foods (equity), First City Monument Bank (FCMB) (loan), Access Bank Plc (loan),  Arnergy Solar (equity), Starsight (loan) and Verod Capital Growth Fund III and in Francophone West Africa: Valency International (Cote d'Ivoire) (loan), Ecobank Transnational Incorporated (loan), Baobab+ (Senegal, Cote d'Ivoire and Mali)(equity), Aktivco (Burkina Faso, Cote d'Ivoire, Cameroon and Niger)(loan) and Cofina Senegal SA (loan).
Norfund's indirect investments in Ghana through funds and platforms in which Norfund is an investor include CAL Bank (through Arise B.V.), Fidelity Bank Ghana (through the Africinvest Financial Inclusion Vehicle), DTRT (through the Verod Capital Growth Fund III), Everpure Holdings, Atlantic Mall, Zeepay Financial Services and Metropolitan Health Insurance (through the Oasis Africa Fund), Genser Energy (through the Vantage Mezzanine Fund II), Ignita AB, Elephant Healthcare Ltd and TradeDepot Inc (through the Novastar Ventures Africa Fund II), SAS Dental Clinic, Emigoh Ghana Ltd, Hillcrest Hotel and Jobost Enterprise (through the GroFin Africa Fund), Ghana Home Loans (through European Financing Partners SA) and PEG Africa (through the responsAbility ACPF).
Norfund's investment in Globeleq also gives it indirect energy investments in Cote d'Ivoire and Cameroon, including Dibamba Power, Kribi Power and Azito Energies SA. These are alongside several other indirect investments in Norfund's other focus countries of Nigeria, Cote d'Ivoire and Senegal.
Source: Myjoyonline
Extranewsgh.com is not responsible for the reportage or opinions of contributors published on the website. Read our disclaimer.
Send Your News Stories and General Inquiries to extranewsgh@gmail.com or Whatsapp: 0206386139