The governors of New York and New Jersey have declared states of emergency amid widespread rains, flooding and reported tornadoes as the remnants of Hurricane Ida hit the US northeast on Wednesday.
The storm had hit the southern US states of Louisiana, Mississippi, Alabama and Florida on Sunday, flooding neighbourhoods, causing widespread power outages and killing at least six people.
Reconnaissance flights on Wednesday revealed entire communities devastated by winds and floods in Southern Louisiana, as officials continued to assess the damage.
The death toll from the storm reportedly doubled as it crossed the US northeast on Wednesday, with flood waters submerging parts of New York City and New Jersey and reported tornadoes ripping through parts of Pennsylvania, New Jersey, and Maryland.
New York Governor Kathy Hochul declared a state of emergency as remnants of Ida caused enormous flooding in New York City and other parts of the state on Wednesday.
"I am declaring a state of emergency to help New Yorkers affected by tonight's storm," Hochul tweeted.
New Jersey Governor Phil Murphy had also declared a state of emergency in response to Ida, as did New York City Mayor Bill de Blasio earlier in the night.
"We're enduring a historic weather event tonight with record-breaking rain across the city, brutal flooding, and dangerous conditions on our roads," the mayor said, as New York City put in place a travel ban until 5 AM ET (9 GMT) Thursday for all non-emergency vehicles.
Meanwhile, the National Weather Service said it recorded 8 centimetres (3.15 inches) of rain in New York's Central Park in one hour Wednesday night, far surpassing the 4.9 centimetres (1.94 inches) that fell in one hour during Tropical Storm Henri on the night of August 21 – believed at the time to be the most ever recorded in the iconic park.
For the first time ever, the National Weather Service also issued a Flood Flood Emergency for about 9.1 million New Yorkers considered at risk, urging them to find higher ground.
NBC New York reported that a mother and son died in flood water in their home in the neighbourhood of Jamaica in the Queens borough of New York City.  Another woman was also found dead in her home in the borough after emergency services responded to reports of flooding there.
The broadcaster reported that another man was found unresponsive in Brooklyn home emergency personnel responded to more reports of flooding. His cause of death was still being determined.
The storm invoked memories of Superstorm Sandy, a 2012 storm that swept across the Atlantic and caused widespread devastation in New York City, New Jersey, and the surrounding areas.
Homes destroyed
The Port Authority of New York and New Jersey, which operates the major airports in the region, said late Wednesday night that all flights had been suspended and all parking lots were closed due to severe flooding.
Earlier in the day, the storm blew through the mid-Atlantic states with at least two tornadoes, heavy winds and drenching rains that collapsed the roof of a US Postal Service building in New Jersey and threatened to overrun a dam in Pennsylvania.
Sergeant Chris Levchak said that there were people inside the US postal service building in Kearny, New Jersey when the roof collapsed.
He said rescue crews were on scene into the night, with no immediate word on the number of people or severity of injuries.
Meanwhile, the mayor of Passaic, New Jersey, Hector Lora told news outlets that a person had died in the city after being submerged in their car.
Social media posts showed homes reduced to rubble in a southern New Jersey county just outside Philadelphia, not far from where the National Weather Service confirmed a tornado Wednesday night.
Rains also prompted the evacuations of thousands of people after water reached dangerous levels at a dam near Johnstown, a Pennsylvania town nicknamed Flood City. An official said later Wednesday that the water levels near the dam were receding.
In Rockville, Maryland, water had almost reached the ceilings of basement units Wednesday when crews arrived at an apartment complex.
A 19-year-old was found dead, another person was missing and about 200 people from 60 apartments near Rock Creek were displaced, Montgomery County Fire Chief Scott Goldstein said Wednesday.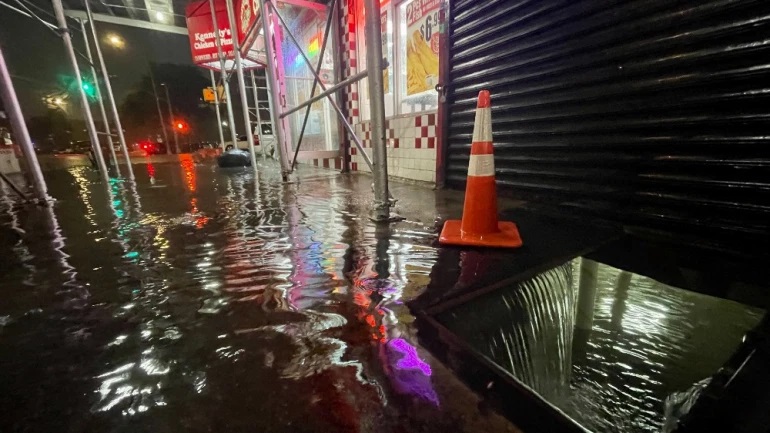 Source: aljazeera
Extranewsgh.com is not responsible for the reportage or opinions of contributors published on the website. Read our disclaimer.
Send Your News Stories and General Inquiries to extranewsgh@gmail.com or Whatsapp: 0206386139