More local soya bean processors are gradually shutting down their businesses as the shortage of raw materials needed to feed their industry intensifies.
Already 90 per cent of industry players have shut down due to the same reasons which have rendered over 1000 people jobless.
According to the industry players, foreign companies have penetrated the market and are purchasing the beans from the farmers at a higher price, making it difficult for them to compete.
"We have people coming in from other places, especially Indians going onto the market and moping almost everything," processors reveal.
The Chief Executive of Dragon Farm Limited, Gideon Aboagye on JoyNews' AM Show, on Tuesday, noted that the intrusion has had adverse effects on the local factories, hence, the rampant shutdown of soya bean processing factories.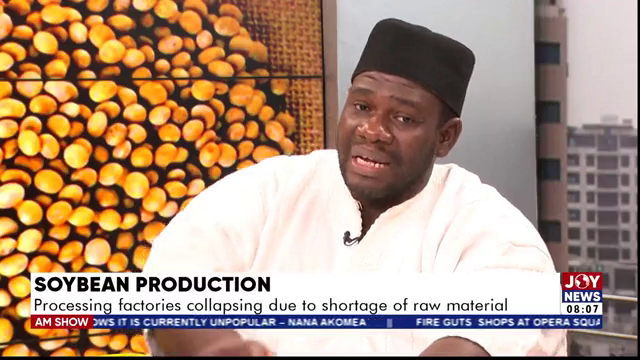 "We deal with machines, and so you need to have raw materials to feed the machines regularly to make them efficient and profitable.
"What has happened now is that most of the volumes [of soya beans] that should be around to assist us to sustain our production has all been mopped up by foreigners so there is none in there for us to aggregate," he stated.
Even though Mr Aboagye is still in business, he projected that his factory will shut down in 30 days as a result of the debt he is incurring.
"I used to produce 85000 metric tonnes a day, now I am producing 20000. I have cut down my employees from 120 to 40 and I am telling you that in the next 30 days my business will be folding up," he revealed.
Meanwhile, the Deputy Food and Agriculture Minister, Yaw Addo Frimpong encouraged farmers and stakeholders in the sector to invest more to achieve results.
"I sympathise with our local processors, but we need to build their capacities so that they can compete adequately," he said.
However, Mr Abogye did not buy the response.
According to him, the Deputy Minister's answer to the plight of soya bean processors is pathetic.
"We have been warning them for the last three years about this. And it is sad that we have been asked to encourage ourselves, so we will encourage ourselves."
Soya bean is crucial to the national economy. It is consumed by human beings and used for animal feed particularly, poultry farming.
Industrially, the bean is used for paints, biodiesel among others.
Source: MyJoyOnline
Extranewsgh.com is not responsible for the reportage or opinions of contributors published on the website. Read our disclaimer.
Send Your News Stories and General Inquiries to extranewsgh@gmail.com or Whatsapp: 0206386139