The Ghana Health Service (GHS) has released two graphs to prove that the country has reached its peak of the Covid-19 infection curve.
Some public health experts have, in the last two days, challenged the Service's position when its Director of Public Health, Dr Badu Sakordie made the disclosure at a press briefing in Accra on Tuesday.
Ghana's case count has now increased by 372 to 3,091. At the time the GHS announced Ghana had reached the peak of the curve, the country had 2,719.
A pharmacist and a fellow the Centre for Democratic Development (CDD-Ghana) countered the claim.
Dr Kwame Asiedu Sarpong said the multiplicity of factors that impact the spread of the disease doesn't support the assertion by the Ghana Health Service (GHS).
"The fact that you are testing more means you will identify more but it also means the disease is spreading more and that's why in our opinion we are nowhere near our peak.
"When there are a number of factors at play that make the disease spread, then you're talking about a graph that is mimicking the polynomial curve.
"Under those circumstances, you are nowhere near your peak because you need to decrease the number of factors that are impacting on your spread," he said.
But at a press briefing on Thursday, the GHS defended its position and provided data to back it.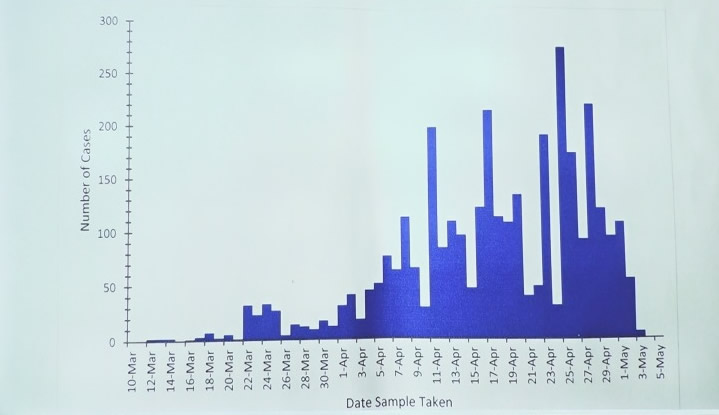 Director-General Dr Patrick Aboagye said, "we peaked around the 25 of April and since then the numbers have continued to come down until May 6.
"So that is showing that of the positivity, since peaking on April 2, we have consistently recorded a decline until today, May 7. "
Source: myjoyonline