The Ghana Education Service (GES) has dispelled information circulating on social media that the reopening date for final year students in Senior High Schools has been postponed again to Friday, May 28, 2021.
The PRO of GES, Cassandra Twum Ampofo, in a statement noted that the reopening date remained unchanged as SHS 3 students are to report to their various schools on Wednesday, May 5.
According to her, "All students, staff, parents and the general public are to disregard the fake news being circulated by some unscrupulous persons."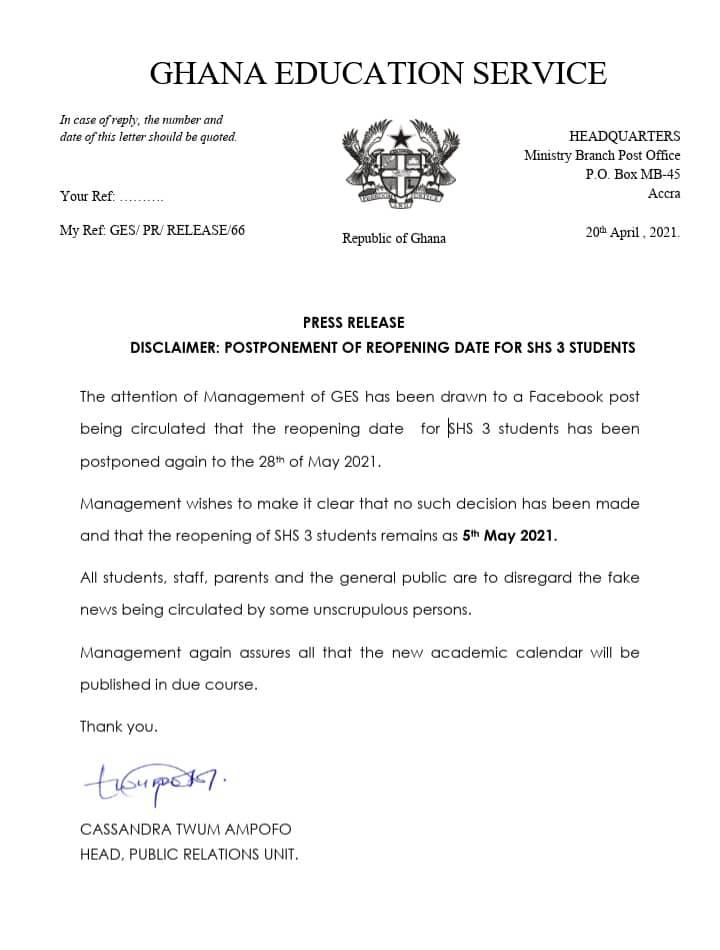 Earlier this month, the Ghana Education Service announced that it has changed the reopening date for final year students in senior high schools from Tuesday, April 6, 2021 to Wednesday, May 5, 2021.
The decision, the Service explained, came after considering a proposal from the Conference of Heads of Assisted Secondary Schools (CHASS).
To critics, the move was due to the fact that schools in the country are not adequately furnished with the new curriculum logistics.
But Madam Ampofo in the statement assured parents and students that "the new academic calendar will be published in due course."
Source: MyJoyOnline
Extranewsgh.com is not responsible for the reportage or opinions of contributors published on the website. Read our disclaimer.
Send Your News Stories and General Inquiries to extranewsgh@gmail.com or Whatsapp: 0206386139