A network of coronavirus-testing walk-in centres is to be set up across England in an attempt to persuade more people to come forward for testing.
Several hundred walk-in units will be up and running by the end of October, in time for winter, when there is concern cases could start to rise.
They will complement the existing drive-through centres, mobile testing units and home-ordering service.
It comes amid concern people are still not coming forward for testing.
The government's weekly random test of 30,000 people, run by the Office for National Statistics, suggests there are about 1,700 new infections a day.
But the testing service is picking up only about a third of those.
Some of that will be because people are not showing symptoms when they are infected, but bosses at the NHS Test and Trace service said they wanted to see more people come forward for testing.
The local virus hotspots
Meanwhile, Public Health England has released its weekly report into local infection rates.
It shows Blackburn has had the most positive cases per 100,000 people over the past week at nearly 80 – as the BBC reported earlier this week.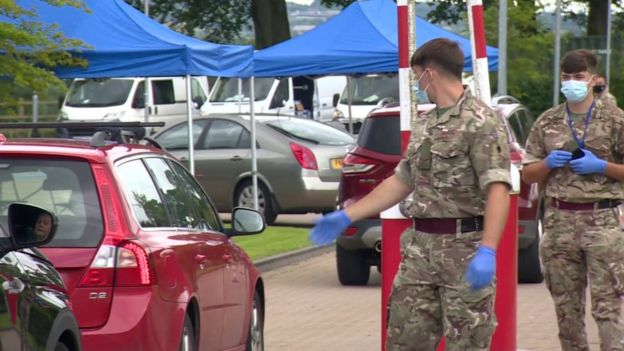 Leicester, which was placed into local lockdown earlier in the month, has seen cases fall.
Extra measures have been introduced in Blackburn, including tougher guidance on household mixing.
But a full local lockdown is not on the cards yet.
Luton has also been designated an area for intervention alongside Leicester and Blackburn.
It means some of the restrictions being eased nationally from this weekend, including the re-opening of gyms, will not now happen there.
Other areas among the top 10 are Kirklees, Sandwell, Rotherham and Bradford.
These are all being closely watched, with local public health teams encouraging those who have been in close contact with confirmed cases to self-isolate.
Signs of improvement on contact tracing
Overall, there are signs the contact tracing service – NHS Test and Trace – is beginning to improve on some measures.
Some 80% of people who tested positive over the past week provided details of close contact.
Of those close contacts provided 78% were reached and asked to isolate, up from 72% last week.
NHS Test and Trace head Baroness Harding said she was pleased with the performance.
But she said the "most important lever" in keeping the virus at bay was to get more people to come forward for testing, which was why a network of walk-in centres was being created.
"NHS Test and Trace relies on everyone playing their part," she said.
"We all need to get a test if we have symptoms, share details of our contacts if we test positive and self-isolate when asked to do so."
Source: bbc
Extranewsgh.com is not responsible for the reportage or opinions of contributors published on the website. Read our disclaimer.
Send Your News Stories and General Inquiries to extranewsgh@gmail.com or Whatsapp: 0206386139