Coronavirus is continuing its spread across the world, with almost 13 million confirmed cases in 188 countries. Around 570,000 people have lost their lives.
This series of maps and charts tracks the global spread of the virus.

Where are coronavirus cases and deaths still rising?
The virus, which causes the respiratory infection Covid-19, was first detected in the city of Wuhan, China, in late 2019.
It then spread quickly across the globe in the first months of 2020, reaching 12 million confirmed cases in early July.
Europe and North America saw the first major outbreaks in April but as they began to ease, Latin America and Asia started seeing an increase in cases.
North America has seen a resurgence of infections in recent weeks, mostly driven by new outbreaks in the US.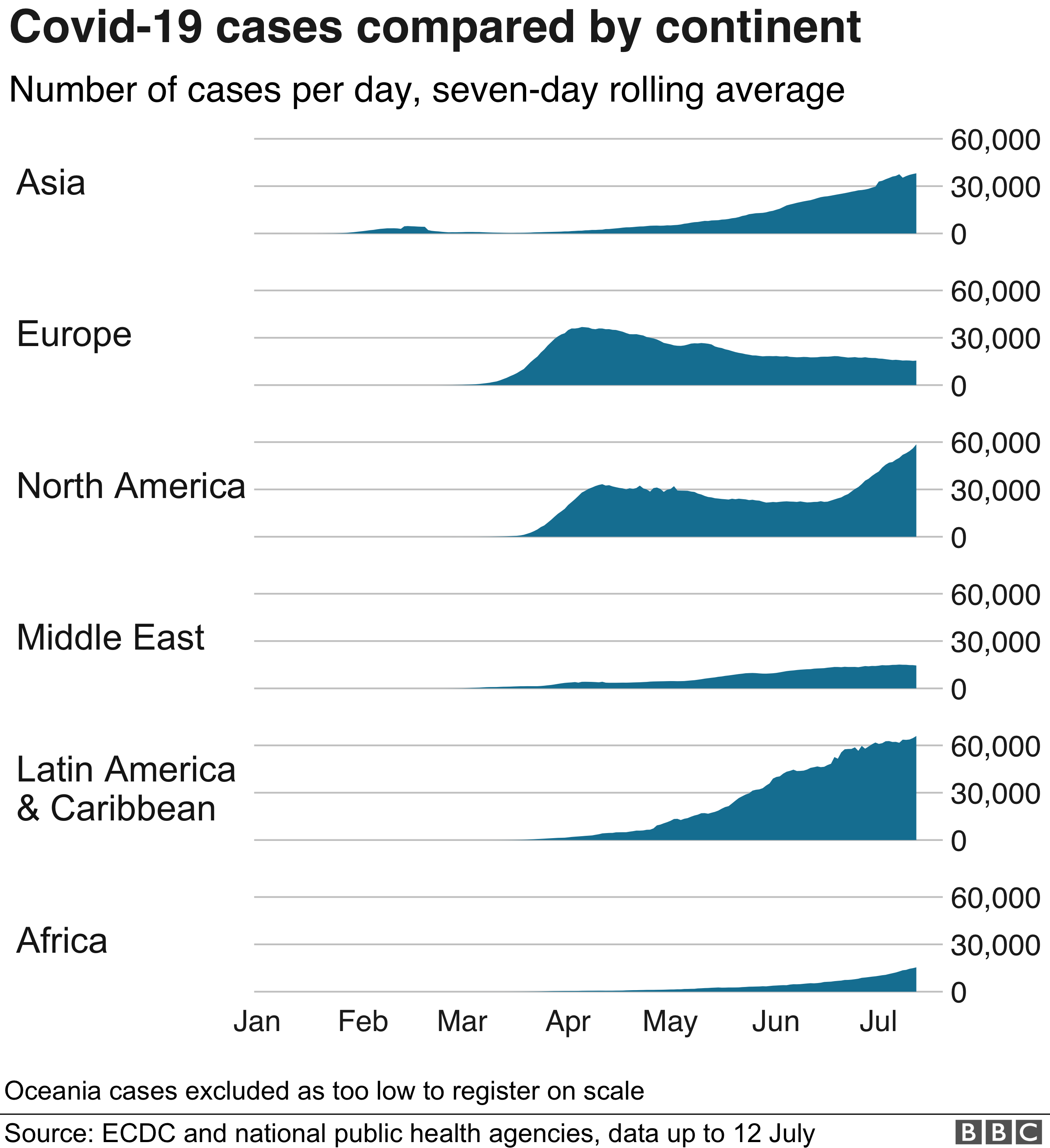 World Health Organization (WH) chief Tedros Adhanom Ghebreyesus has warned that in most of the world, the virus is not under control and is "getting worse".
The head of the Pan American Health Organization, Dr Carissa Etienne says there is no doubt Central and South America have become the epicentre of the pandemic.
She says coronavirus is spreading "exponentially" in many areas of the region and the peak of the crisis could be some weeks away.
Brazil has been the worst-hit so far with a death toll of more than 72,000. Mexico now has the world's fourth largest death toll with more than 35,000 deaths from almost 300,000 confirmed cases.
Colombia has announced it is extending its nationwide lockdown by more than two weeks after reported cases and deaths accelerated in several cities.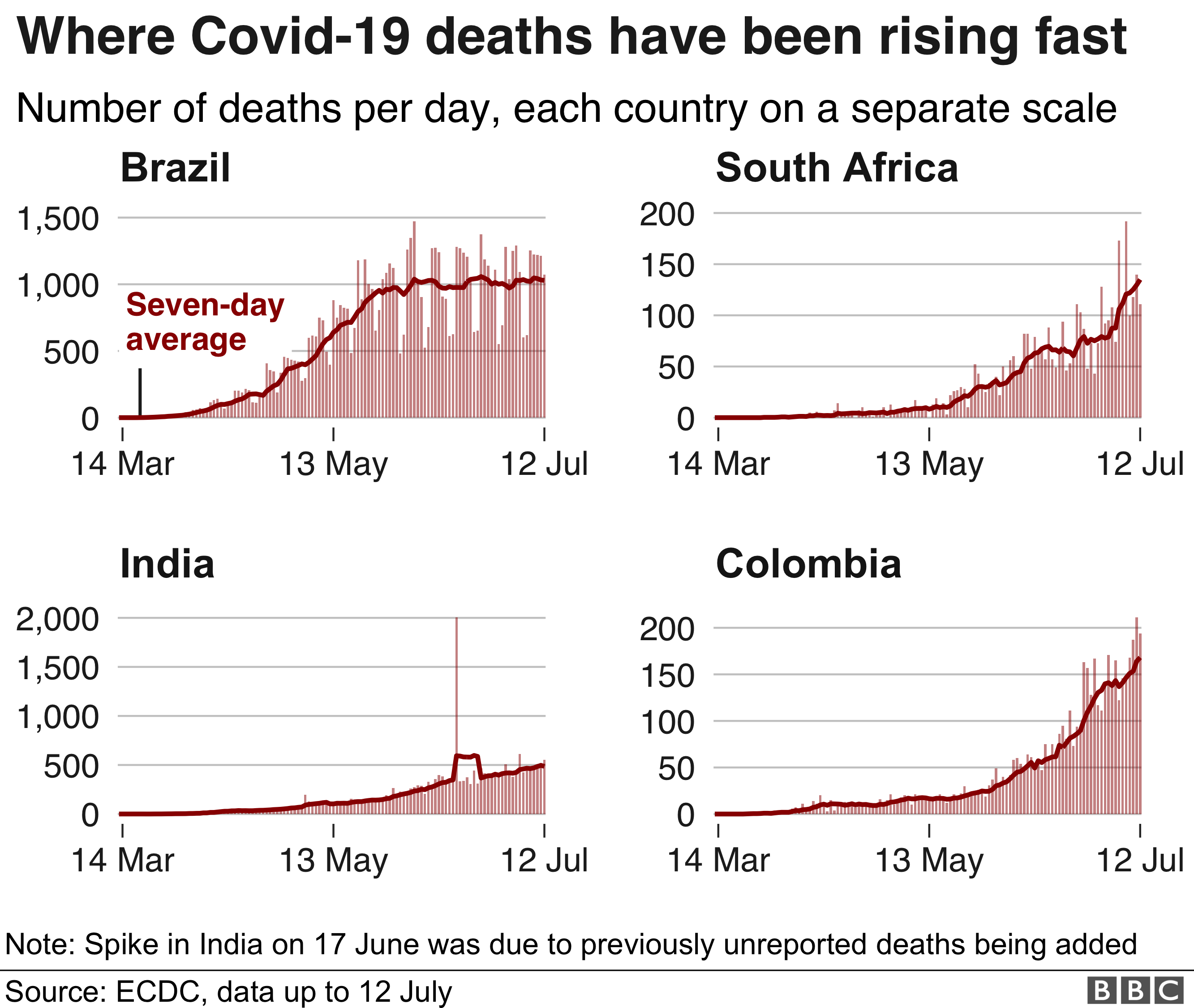 India now has more almost 850,000 confirmed cases, the third highest number in the world, and saw its biggest spike on Saturday with over 27,000 cases reported in 24 hours.
The current surge in cases comes despite an earlier nationwide lockdown that lasted more than two months. Nearly a dozen Indian states have now re-imposed partial lockdowns.
South Africa and Egypt have seen the largest outbreaks so far in Africa. But testing rates are reported to be extremely low in some parts of the continent so this could be distorting official estimates of how far the virus has spread.
South Africa has seen a doubling of confirmed cases over the last two weeks. The government has introduced new restrictions, including another ban on alcohol sales to take the pressure off the healthcare system.

Are any countries seeing a 'second wave' of cases?
Previous pandemics have unfolded in "waves" of infections, with fresh outbreaks recurring after the initial peak subsides. Health experts think Covid-19 may follow a similar pattern, but there is no firm agreement on what exactly constitutes a second wave.
Although a number of countries have seen a rise in infections after appearing to have the virus under control, they may still be in the first stages of the outbreak. And rising cases may sometimes be down to increased testing.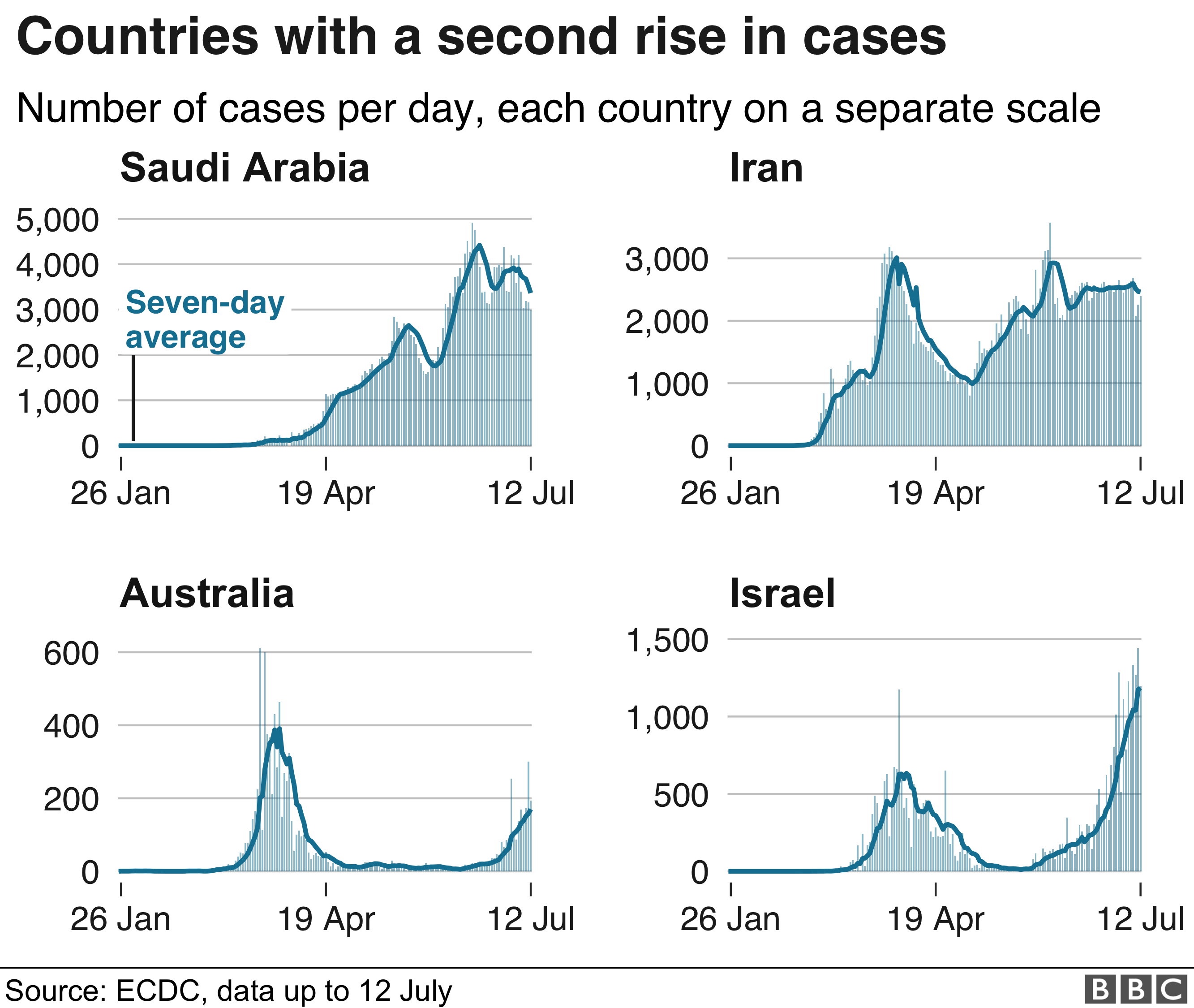 Iran saw a renewed surge in cases in May and June, but they have steadied in recent weeks.
There has also been a surge in cases in Israel since restrictions were eased at the end of May.
In Australia, the city of Melbourne has now begun a second lockdown after a recent spike in infections, with residents barred from leaving home for six weeks, except for essential reasons.
Meanwhile, Saudi Arabia has banned international visitors from making the Islamic pilgrimage, or Hajj, this year in an attempt to control its outbreak.

US seeing a second surge of cases
The US is seeing record numbers of confirmed daily cases, with figures tipping over 60,000 in recent days.
Deaths were falling until recently, but have started to rise over the last week.
North Carolina, South Carolina, Oregon, Hawaii and Alaska recorded their highest daily totals for coronavirus cases on Saturday.
Florida, which has proved vulnerable due to tourism and an elderly population, has hit record daily cases twice in the last 10 days.
Dr Anthony Fauci, the country's top health official for infectious diseases, has called for some states to consider pausing the end to their lockdowns.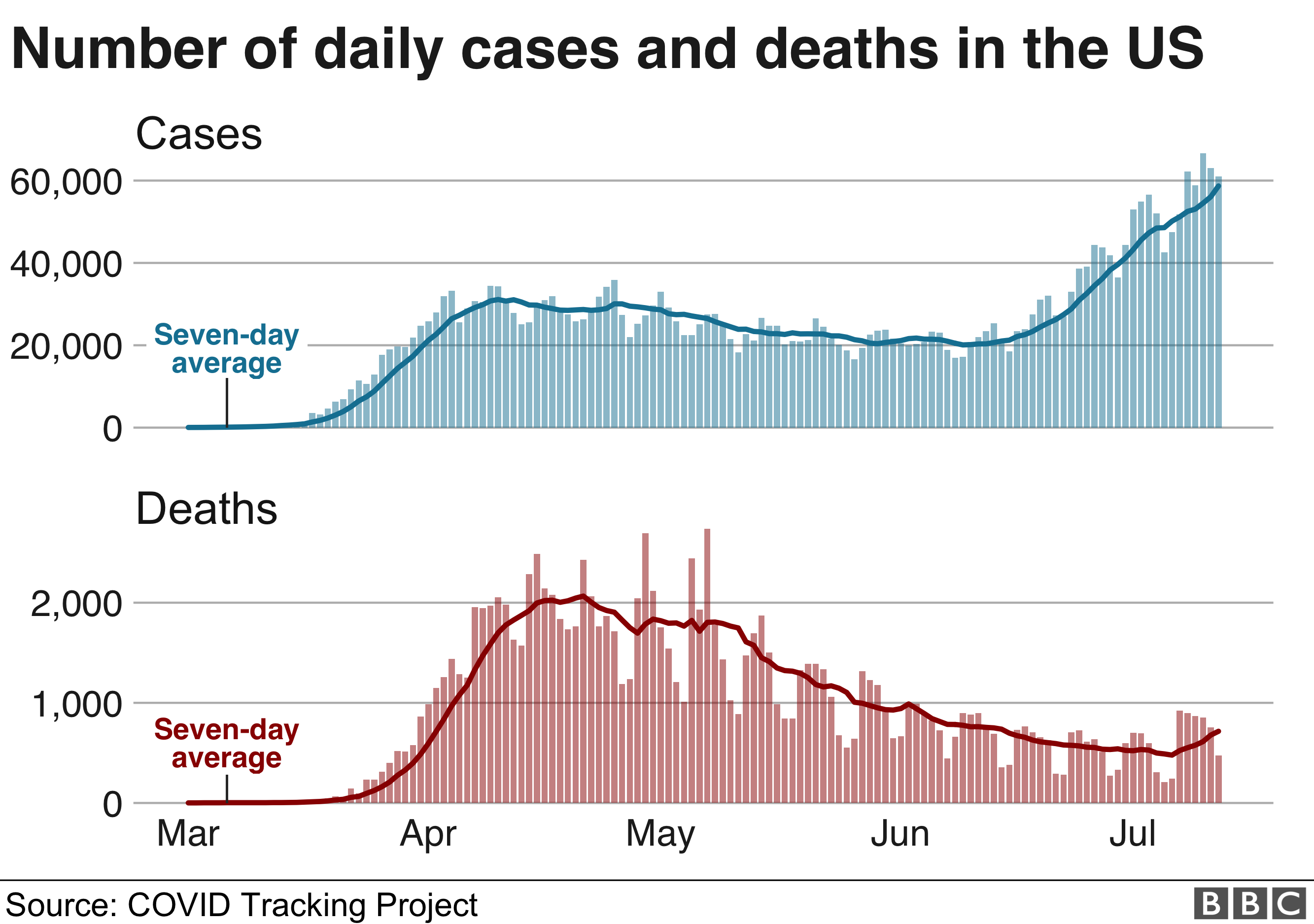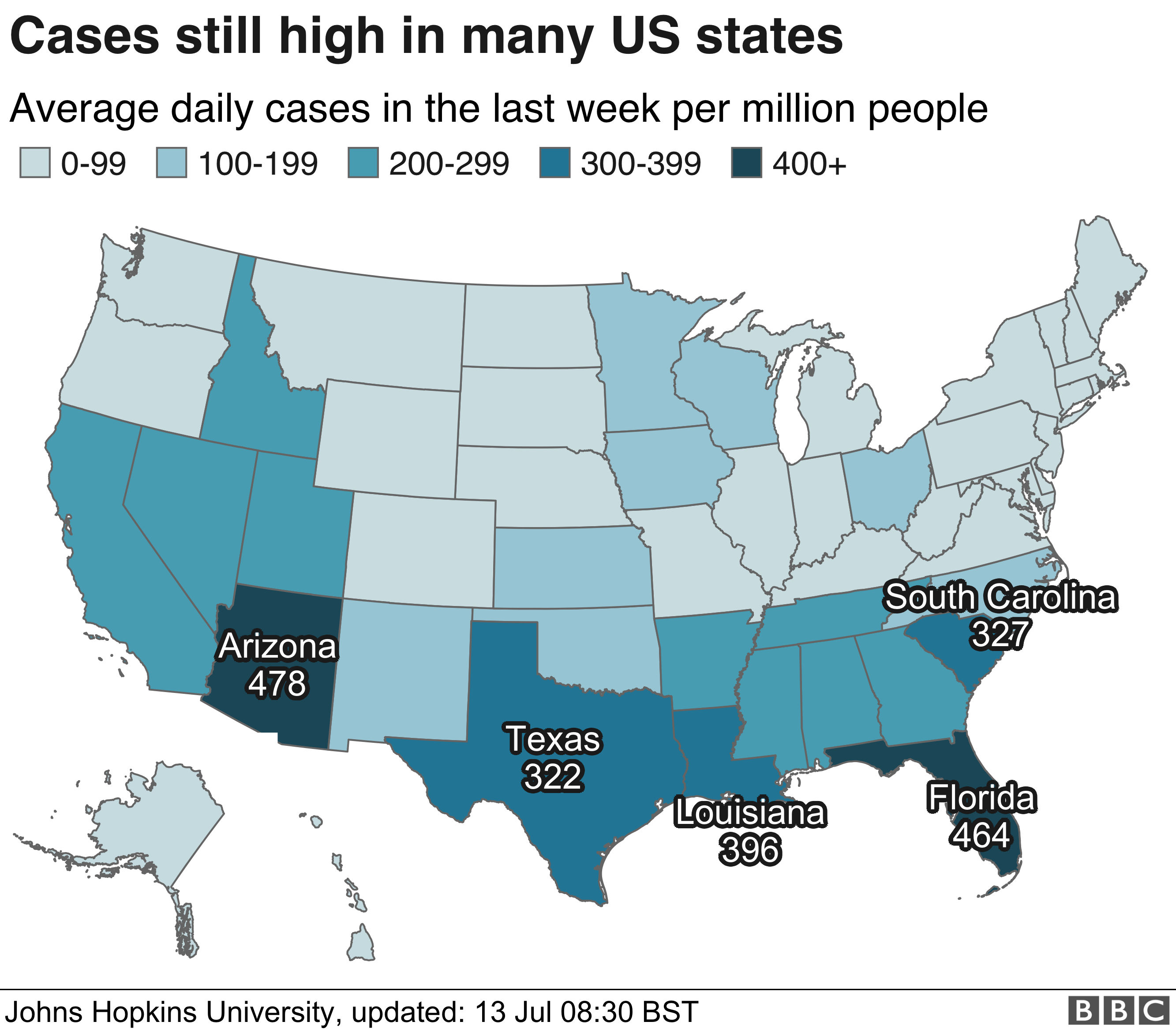 The White House has said the rise in cases is a product of an uptick in US testing capacity. But Dr Fauci has warned that higher percentages of positive tests "cannot be explained by increased testing".
So far, the US has recorded more than 3.3 million cases of the virus and over 135,000 deaths.
The University of Washington predicts the death toll could hit 175,000 by October – though it says this could be reduced to 150,000 if 95% of Americans wear masks in public.
On Saturday, US President Donald Trump wore a mask in public for the first time since the start of the pandemic.
Source: BBC
Extranewsgh.com is not responsible for the reportage or opinions of contributors published on the website. Read our disclaimer.
Send Your News Stories and General Inquiries to extranewsgh@gmail.com or Whatsapp: 0206386139