The Communications Minister is asking young women in Ghana not to make the mistake of putting their nude photos and videos on the internet for whatever reason.
Ursula Owusu Ekufful said such acts get stored permanently digitally, and may cause them job opportunities and huge embarrassment in future when they have attained certain statuses in society.
Addressing a conference of the 21st century woman at the University of Cape Coast (UCC), she said many women are nursing regrets and are bearing the brunt for their acts of yesterday.
The Minister intimated, the internet though good, its dangers could be worrying and advised the young women not to let their guard down by putting their nude photos and videos on the internet.
The 21st century woman episode under the auspices of the Centre for Gender, Research and Documentation at the University, brought together women achievers to interact with young women at the university on how to navigate their ways through to add value to themselves.
Mrs Ekufful noted, "That's why we need to be on our guard and know that somebody somewhere may be chronicling whatever we are going through. These images never get lost on the internet; they are kept permanently in some archive and it can be retrieved and we may be confronted with that at any time."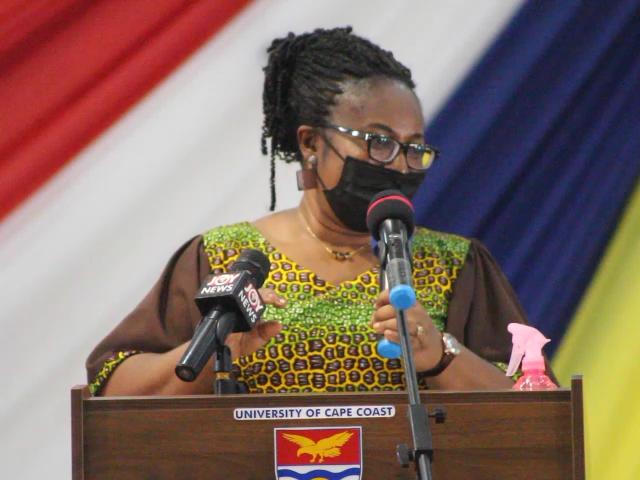 She added, "it may be a source of deep embarrassment to you in some years to come when you are confronted with the foolishness of your youth."
The Covid-19, the minister says, has brought inherent opportunities, opportunities that could give women multiple jobs in its wake. She says, now it's become normal to work remotely and to work from home.
"For women, it gives us a chance to work and earn a living and to take care of our families at the same time. So that tension of leaving your children to go out and work has been blurred a bit because of the pandemic and the virtual working environment"
Director of the Centre for Gender, Research, Advocacy and Documentation at UCC, Dr Georgina Oduro, called on women to be innovative and creative in order to be relevant on the job market.
She admonished the women not to allow critical thinking, creativity and constant seeking of knowledge depart from them.
"To be a 21st century woman, you need to be creative, a critical thinker and knowledgeable in order to give a good account of yourself and make the needed impact," he advised.
The women gathered for the 21st Century woman episode said feminism meant standing up to be counted and breaking barriers that have long hindered women's progress and advancement.
Source: Myjoyonline
Extranewsgh.com is not responsible for the reportage or opinions of contributors published on the website. Read our disclaimer.
Send Your News Stories and General Inquiries to extranewsgh@gmail.com or Whatsapp: 0206386139