Ghanaian highlife musician, Kwasi Poku Addae, popularly known as Kwaisey Pee believes Ghanaians are displaying hypocrisy for congratulating Shatta Wale.
According to him, although Shatta Wale has done well by working with someone as renowned as Beyoncé, it doesn't mean all congratulatory messages must be addressed to him.
Speaking in an interview with Kumasi-based Hello FM, Kwaisey Pee said it is a sign of hypocrisy on the side of any Ghanaian to hold Shatta Wale's work with Beyoncé in high esteem while the works of local artists are disrespected.
"We all cannot congratuet him [Shatta Wale]. He has done well for Ghana but I do not want to be a hypocrite. Indeed, he has done well but ask yourself how many of these celebrities congratulatiing him will do same when Shatta Wale was to work with a local artiste."

"It is hyprocrisy on the side of anyone to worship this achivement of Shatta Wale whle they relegate local susccesses. They are congratulating Shatta Wale because of  Beyoncé  and that is hypocrisy.
Kwaisey Pee was of the view that local artistes should equally be hailed for their works since it is a show of gross hypocrisy when you congratulate Shatta Wale because of Beyoncé but you relegate other artistes to the background.
"They all need equal support," he said.
Watch Interview Below: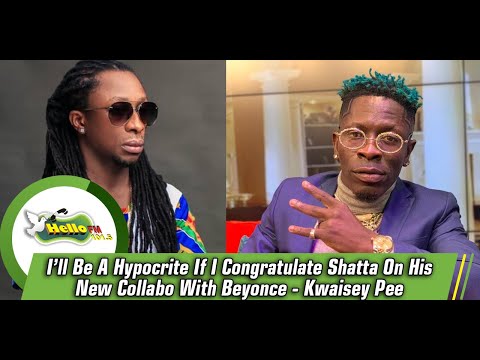 Extranewsgh.com is not responsible for the reportage or opinions of contributors published on the website. Read our disclaimer.
Send Your News Stories and General Inquiries to extranewsgh@gmail.com or Whatsapp: 0206386139