3rd May, 2020
THROUGH THE STORM WITH JESUS
TEXT: Mark 4:35-41
A journey that started with a simple instruction and desire became complex in the middle. In the same way, we start a journey and unexpectedly, things become complex. We started the year 2020 with so much hope and expectation only to be confronted with this pandemic.
The day Jesus had taught them about the Kingdom of God and how it works and on that same day when it seemed all was well, they embarked on a journey and a storm arose. We can live life when all is well and out of nowhere, a storm will arise even though God is present with us.
7 STEPS ON THE JOURNEY
1. The Call To Begin – Jesus called to the disciples to crossover to the other side. Every journey requires movement. In order to make progress, there must be movement and movement will create discomfort. The disciples had seen miracles where they were but they had to move.
The good thing was that Jesus was with them on this journey (Mark 4:36). Jesus being with them however did not stop the storm from occurring.
2. The Storm – An unpredictable interference. A storm arose on the way. Today, many of us feel the storm of the novel Coronavirus that causes the COVID-19 disease. Storms will come to test us. If God is with us, then there will be storms. Storms can come in the form of diseases, marital challenges, financial difficulties, loss of jobs, or even business failures. When we go through these does not mean God has abandoned us.
3. The Silence – the moment you are going through a storm and it seems God is missing or silent. While they were encountering the storm, Jesus was at the bottom of the boat asleep. There are times we will God through the storm and we cannot feel the presence of God or see Him at work in our situation. We may not hear God in that moment but He is speaking to us because silence is the language of God. God is present in this current pandemic speaking to us.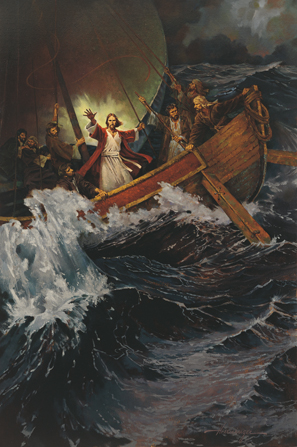 4. The Panic – they asked Jesus if He did not care they were perishing. Sometimes people ask this question, where is God when we are suffering? Sometimes storms make us question God but we must never doubt God in these circumstances. His silence is not His absence. We must know God when He speaks or not. Whether He speaks or not, He is still God. Whether we see Him or not, He is in the boat with us.
5. The Word of God – Jesus said to the storm, "Peace, be still!" He will also say to this pandemic that "Peace, be still!". When they called on God, He stepped in and responded to the storm. We must know how to call on God and acknowledge Him. In the storm, we must not fear.
6. The Storm Addressed – Jesus asked His disciples two questions; Why were you so fearful? How is it that you are afraid? Because He is with us, we must not be afraid. Before this pandemic, we trusted in God and in His word. Now is not the time to lose faith and trust in God because of the storm/pandemic and its effects. If Jesus said let us go over to the other side, then He is still with us on this journey even in the storm. We must have faith in Him. Faith is trusting that the God who begun with us will bring us to the expected end.
On this same sea earlier on, Jesus had spoken a word that saw Peter catch so much fish when they had toiled all night without results. Many of us experience God one way and forget to extend that experience into other areas of our lives. Whatever we are going through now, the God who intervened in our previous situation will also intervene in this current situation. God will come through for us and EVERYTHING WILL BE ALRIGHT!
7. A New Experience and Revelation of God – After Jesus had commanded the storm to be stilled and it was stilled, the disciples declared, "Who can this be, that even the wind and the sea obey Him!" May we have a new encounter with God! We will come out of this storm victorious. The storm will be stilled! We shall not die! This storm will pass! We will not be broken! Our faith will not fail! We shall overcome!